Michelle Obama has revealed her "2020 Workout Playlist" and, particularly after her husband included Fleabag on his (now annual) list of favourite movies and TV shows last month, it has confirmed the former White House residents are undeniably down with the kids.
Posting on her social media accounts on Monday, Obama – who once completed 25 push-ups in an appearance on The Ellen Show – posted a list of 26 tracks to work out to, featuring songs by rapper of the moment Lizzo, Childish Gambino and Chuck Brown, plus nine slower-paced tracks for a sensible cool down (think Sam Smith and Frank Ocean).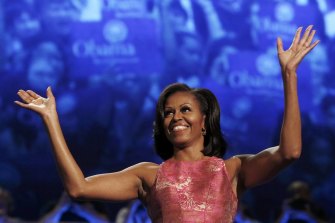 Michelle Obama has revealed her "2020 Workout Playlist".Credit:Reuters
Other tunes on the list included Tambourine by Eve (the clean version, thank you very much) and repeat appearances from Ed Sheeran and Beyoncé.
Australians also find Mr Sheeran to be an unlikely source of fitness inspiration. The top songs we streamed while listening to workout playlists on Spotify from September to December last year were: I Don't Care by Ed Sheeran and Justin Bieber, Hottest 100 favourite Dance Monkey by Tones and I and Youngblood by 5 Seconds of Summer.
According to global data from the music streaming service, people are more likely to create playlists labelled "running" than other other workout type, followed by "yoga" and "weight training". Over 2019, streams of playlists described as for meditation increased by 113 per cent, more than playlists created for any other type of health and wellness activity, followed by pilates (71 per cent).
But, does working out to music actually increase performance?
Kevin Netto, an associate professor in biomechanics at Curtin University's School of Physiotherapy and Exercise Science, says the available evidence suggests working out with music is useful, citing a large Australian and UK review published this month.
Researchers at the University of Southern Queensland and Brunel University London compared existing studies involving over 3000 participants, concluding listening to music, particularly fast-paced music, while working out increases a person's positive feelings towards exercise, decreases their perceived exertion and can make their oxygen consumption more efficient, however it did not affect a person's heart rate.
"This review combined a whole bunch of previous research, so the findings are strong," Associate Professor Netto noted, although the effects weren't as great when people were playing a sport as opposed to working out at a gym and you should only zone out to tunes when safe to do so.
If you are setting off on an intense morning run and want to keep the pace up, opt for something in the 150-180 BPM range.
"A few studies have compared silence to music and the results were always better with music … [however] listening to music when auditory attention is needed, like when cycling on the road, should be avoided."
How to create your perfect workout playlist
Maddison Turner and Patrick Monica, co-founders of King Beats Fitness nightclub-style gym in Glebe, believe loud music helps to put them in the zone when working out.
When choosing songs to work out to, particularly to jog or run to, they recommend creating playlists based on songs' beats per minute (BPM).
Songs that are 120-125 BPM are great for the light joggers (Turner and Monica suggest Avicii's True Believer and Duke Dumont's I Got U, but you can also dag it down the footpath at this pace to Journey's Don't Stop Believing), while those wanting to go a bit quicker might want to try 140-145 BPM (such as Fatboy Slim's Praise You or Missy Elliot's Get Your Freak On).
If you are setting off on an intense morning run and want to keep the pace up, opt for something in the 150-180 BPM range. Outkast's Hey Ya! fits the bill, as does The Pointer Sisters' I'm So Excited.
Not sure how quickly you like to move? Turner and Monica have an easy way to find out your ideal BPM.
Grab a friend and have them watch you run on the treadmill at a comfortable pace. For 60 seconds, ask the friend to count every time your right foot hits the ground (it's easier than trying to count both) and double that will be your ideal BPM. You can do the same for the speed at which you use a step machine or push through a squat or lunge routine.
Source: Read Full Article