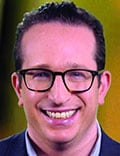 Dr Adam Friedman
NEW ORLEANS – Among the 10 most viewed YouTube videos regarding topical steroid withdrawal, patient testimonials had the poorest quality and reliability of all information sources, results from a novel analysis showed.
"Video-sharing platforms such as YouTube are a great place for patients to connect and find community with others dealing with the same conditions," senior author Adam Friedman, MD, professor and chair of dermatology at George Washington University, Washington, said in an interview in advance of the annual meeting of the American Academy of Dermatology, where the study was presented during an e-poster session. "There is no doubt tremendous value in viewing the shared experience; however, it is important that medical advice be evidence based and validated. Seeking said advice from a medical professional such as a board-certified dermatologist will no doubt increase the likelihood that said guidance is supported by the literature and most importantly, will do no harm."
Noting a trend of increased user-created content on social media and Internet sites about topical steroid withdrawal in recent years, Dr. Friedman, first author Erika McCormick, a fourth-year medical student at George Washington University, and colleagues used the keywords "topical steroid withdrawal" on YouTube to search for and analyze the top 10 most viewed videos on the subject.
Two independent reviewers used the modified DISCERN (mDISCERN) tool and the Global Quality Scale (GQS) to assess reliability and quality/scientific accuracy of videos, respectively. Average scores were generated for each video and the researchers used one way ANOVA, unpaired t-tests, and linear regression to analyze the ratings. For mDISCERN criteria, a point is given per each of five criteria for a possible score between 0 and 5. Examples of criteria included "Are the aims clear and achieved?" and "Is the information presented both balanced and unbiased"? For GQS, a score from 1 to 5 is designated based on criteria ranging from "poor quality, poor flow, most information missing" to "excellent quality and flow, very useful for patients."
The researchers found that the mean combined mDISCERN score of the 10 videos was a 2, which indicates poor reliability and shortcomings. Similarly, the combined mean GQS score was 2.5, which suggests poor to moderate quality of videos, missing discussion of important topics, and limited use to patients. The researchers found no correlation between mDISCERN or GQS scores and length of video, duration on YouTube, or number of views, subscribers, or likes.
Dr Erika McCormick
"We were disheartened that patient testimonial videos had the poorest quality and reliability of the information sources," Ms. McCormick said in an interview. "Videos that included medical research and information from dermatologists had significantly higher quality and reliability scores than the remainder of videos." Accurate information online is essential to help patients recognize topical steroid withdrawal and seek medical care, she continued.
Conversely, wide viewership of unreliable information "may contribute to fear of topical corticosteroids and dissuade use in patients with primary skin diseases that may benefit from this common treatment," Dr. Friedman said. "Dermatologists must be aware of the content patients are consuming online, should guide patients in appraising quality and reliability of online resources, and must provide valid sources of additional information for their patients." One such resource he recommended is the National Eczema Association, which has created online content for patients about topical steroid withdrawal.
Doris Day, MD, a New York–based dermatologist who was asked to comment on the study, said that many patients rely on YouTube as a go-to resource, with videos that can be watched at times of their choosing. "Oftentimes, the person on the video is relatable and has some general knowledge but is lacking the information that would be relevant and important for the individual patient," said Dr. Day, who was not involved with the study. "The downside of this is that the person who takes that advice may not use the prescription properly or for the correct amount of time, which can lead to either undertreating or, even worse, overtreatment, which can have permanent consequences."
One possible solution is for more doctors to create videos for YouTube, she added, "but that doesn't guarantee that those would be the ones patients would choose to watch." Another solution "is to have YouTube add qualifiers indicating that the information being discussed is not medical," she suggested. "Ideally, patients will get all the information they need while they are in the office and also have clear written instructions and even a video they can review at a later time, made by the office, to help them feel they are getting personalized care and the attention they need."
Ms. McCormick's research is funded by a grant from Galderma. Dr. Friedman and Dr. Day had no relevant disclosures to report.
This article originally appeared on MDedge.com, part of the Medscape Professional Network.
Source: Read Full Article