SEOUL, SOUTH KOREA – A once-daily, oral dose of the investigational drug cenerimod, developed for the treatment of systemic lupus erythematosus, has shown a greater response rate among individuals with more severe disease, according to data presented at an international congress on SLE.
Cenerimod is a potent, highly-selective sphingosine 1–phosphate receptor 1 (S1P1) modulator with attenuated calcium signaling, which targets an important signaling molecule in immunity and cell migration, said rheumatologist Sandra Navarra, MD, of the University of Santo Tomas Hospital and St. Luke's Medical Center in Manila, Philippines.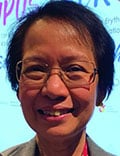 Dr Sandra Navarra
"It reduces the migration of T cells and B cells from the lymph nodes to the circulation into the tissues," Dr. Navarra told the conference. S1P1 receptor modulators are already approved for treatment of multiple sclerosis, but cenerimod is the first to be explored for the treatment of lupus.
Dr. Navarra presented data from the international CARE study, a randomized, placebo-controlled, phase 2 study involving 427 patients with moderate to severe SLE.
Patients had to have been diagnosed at least 6 months before screening, be on stable lupus medications, and have abnormal antinuclear or anti–double stranded DNA antibodies. They were randomized to either 0.5 mg, 1 mg, 2 mg, or 4 mg of cenerimod daily or placebo for 12 months. At 6 months, the patients who had initially been randomized to 4 mg daily were rerandomized either to 2 mg daily or placebo.
While the study found that 4 mg of cenerimod was associated with a reduction in disease activity from baseline to month 6 on the modified Systemic Lupus Erythematosus Disease Activity Index–2000 score (excluding leukopenia), compared with placebo (P = .029). However, the final result was not statistically significant after adjustment for the multiplicity of tests for the four doses against placebo.
But the researchers saw a greater response among individuals with higher levels of interferon type 1 gene expression at baseline, as well as those with higher anti-dsDNA and lower C4 levels, which "makes sense," Dr. Navarra said in an interview, because those were the sicker patients with "more inflammatory, more active disease."
The study did exclude patients with active lupus nephritis, severe active central nervous system lupus, or severe cardiovascular disorders.
Dr. Navarra said the findings are now factored into patient selection for two phase 3 trials, called OPUS-1 and OPUS-2, which are now underway. The OPUS trials have revised eligibility criteria, as well as a screening period of up to 60 days to ensure that only patients with true moderate to severe SLE are enrolled.
The drug was well tolerated, with the rate of adverse events similar across all study groups. The adverse events of particular interest – hypertension, infections and infestations, and eye disorders – were all mild and transient. There were a greater number of reports of hypertension among those taking 1-mg and 4-mg doses of cenerimod, but Dr. Navarra said monthly measurements of systolic or diastolic blood pressure didn't show any change.
The study was funded by cenerimod manufacturer Idorsia Pharmaceuticals. Dr. Navarra has financial relationships with Biogen, Astellas, Janssen, Novartis, Pfizer, Boehringer-Ingelheim, and GlaxoSmithKline.
This story originally appeared on MDedge.com, part of the Medscape Professional Network.
Source: Read Full Article