Before he even entered middle school, Lamont Nash had gone through the most terrifying event he'd ever experience.
"My dad tried to kill me by drowning me in a tub of hot water," Nash says. "I went into an orphanage at the age of five, then into my first foster home at eight."
Foster care didn't stop the abuse. "I was beat a lot in my foster home. I got hit with extension cords and broom sticks," he says.
Nash was very skinny ("90 pounds on a good day") for most of his childhood, and he'd get picked on for being small and for being a foster kid. "I wished I was bigger, then nobody would pick on me or abuse me," he says.
School was where many of the fights broke out. But school was difficult for him (even if the kids had been nice) because of his ADHD.
At age 15, life—and bullies—had beat him down to the point where Nash overdosed on Prozac and entered a mental hospital. "When I got out, I went into an independent living home. My social worker told me that high school was not an option for me. I had to get my GED and a job because they were letting me go at 18, and I was too far behind in school."
The Catalyst for Change
When Nash was 21, working as the retail manager at a local gym, a woman approached him, asking if he'd be interested in modeling. There was a scouting event in town, and Nash decided to check it out.
The modeling school (Barbizon) was interested in him, but he couldn't afford the classes. "Considering I had been struggling all my life trying to survive since the system just let me go at my 18th birthday—and I had no help from family since I had none—it just cost too much money."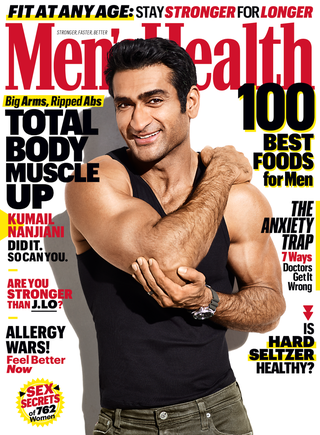 Subscribe to Men's Health
SHOP NOW
But when the school heard Nash's story, they helped him out. And their first advice was to get in shape. Nash was "skinny fit" but they wanted him to work with a personal trainer. He went to the gym he worked at, and a personal trainer took him under his wing.
The Transformation
The first thing Nash did was change his diet. Nash had been a big fast food eater, taking down 10 tacos from Taco Bell with a cinnamon twist, or a whole 16-inch pizza with breadsticks, by himself. He switched to focusing on lean meats and eggs, oatmeal, and lots of vegetables.
With the help of his personal trainer, Nash changed his fitness routine. They worked on compound movements and calisthenics like benchpress, squats, deadlifts, and overhead presses.
Nash started to realize that even when he wasn't in the gym, his life outside the gym was effecting his results. "I stopped going to a lot of get togethers and parties with friends, because I had to wake up and do cardio."
The gym became a place for him to battle mental health, in addition to physical goals. "Exercising has been my therapy. Growing up the way I did caused a lot of trauma in my life. Exercising and having good mentors has been the only that has saved it."
And as a foster kid, who didn't have a family growing up, the gym provided that for him, too. "My clients and friends at the gym became my family, and also my mentors became my family."
After a year, Nash saw results, and after years he was impressed with his progress. People commented on his physique, which helped grow his confidence.
The Rewards
Nash modeled in Detroit, Chicago, New York, and Fresno, California, doing print ads and non-speaking commercials.
Eventually, Nash became a personal trainer himself. And one day, a fellow church member saw him training people outdoors. They offered up a warehouse space they owned, so he could start his own gym.
"I was able to open my own gym in Clovis, CA called Playground Training Academy LLC, where we do personal training, bootcamps, calisthenics, ninja warrior, and parkour."
At 41, Nash started competing in bodybuilding competitions, and at 43, he won first place in his age category at the 2017 Fresno Classic.
Nash recognizes he's come a long way since his traumatic beginnings, and he wants to give back to kids who are just like him. "I have a fund that I started up called Overcomers, through a non-profit called City Without Orphans. I want to help kids who grew up in the foster care get through their trauma like I did: by exercising."
Source: Read Full Article